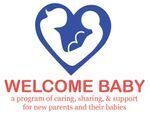 A FREE service providing: group & individual support, child development information, home visitation, and community resources.
Whether this is your first baby or your third, the Welcome Baby program helps to enhance infant development by giving you and your child the best start possible with:
Group & individual support
Basic child care and development information
Home visitation
Community resources
Age-appropriate books to read with your child
The Under 5 Club
Welcome Baby enrollment also includes group activities with the Under 5 Club - a support group for parents, grandparents, and/or caregivers giving the companionship of a group setting while also providing:
Educational activities for parents
Playtime ideas to do at home
Group-sponsored outings in the community
Available to Forsyth County families.
Click here to sign up.
This program is offered FREE to families.
To make a referral for a client, click here or call (336) 748-9028 for more information.
---