Thank you for donating!
We are currently accepting "Excellent used condition" donations for Pinwheels at:
631 Coliseum Drive, Winston-Salem, NC 27106 - Wednesday - Saturday 10:30am - 5:30pm
---

Infant rockers and "bouncy seats"
Pack-n-plays
Bassinets
Strollers
Ride-on toys 
Dolls
Clothing for teens (adult sizes, girls and boys)
Items we accept:
Adult clothing
Children's clothing sizes NB -14 
Feeding supplies and baby/child equipment
Underwear and socks, new with tags only
Maternity clothing and nursing tops
Adult and Children's shoes - must be clean (top and bottom)
Toys, Games, Books: - must be clean, unbroken, contain all pieces, and in working condition
Baby linens, blankets, bibs, diapers, and decor
We cannot accept:
Items that have been recalled
Mattresses
Used car seats, car seat bases, or booster seats
Infant "walkers"
Used bike helmets
Used breast pumps
Stuffed animals or toys
Cloth diapers
Used underwear or socks
Furniture
Dishes, glassware, housewares, or appliances
Pinwheels and The Parenting PATH is a 501(c) 3 nonprofit organization, federal tax ID number 58-1443692.
If you would like a receipt for your donation, please let us know.
---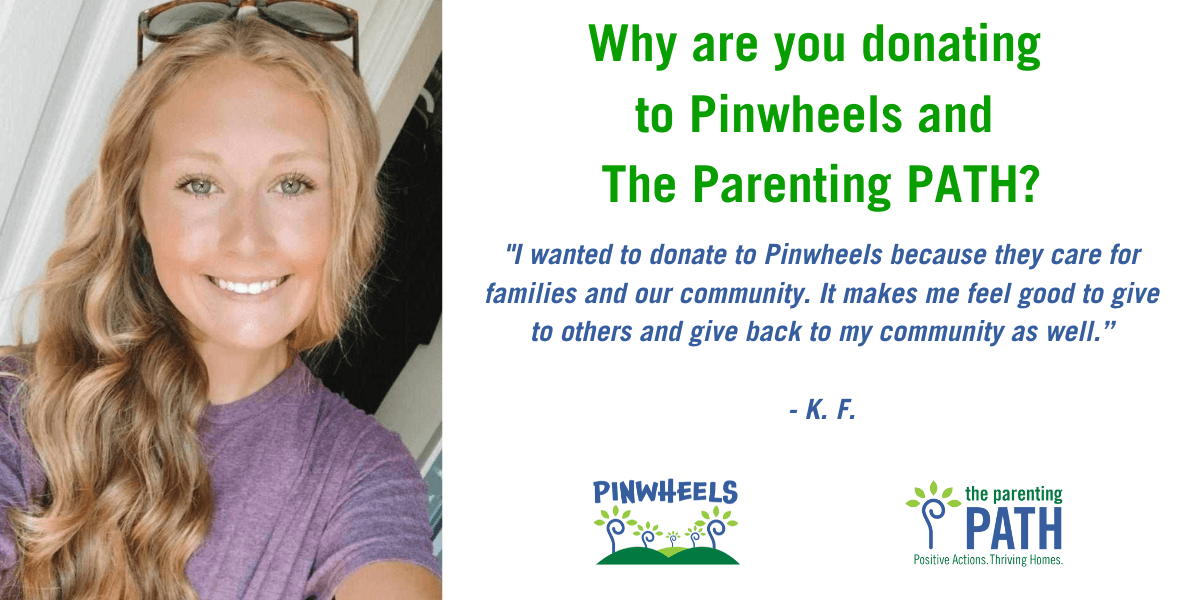 ---