2014 Community Hero - Bud Clark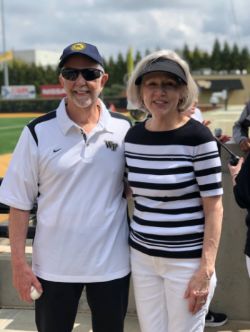 "For your dedication to the prevention of child abuse."
This year's recipient of the Community Hero Award has a history of "always willing to help" when needed. He is described by his wife as "someone who does one thing at a time and does it well". We at SCAN can attest to this.
After being recruited by George Munford and Jeff Stallings, he began his support of SCAN in 2006, going on to become Board Chair and later as a Fundraising Committee member. For many years prior to coming to SCAN, as a young father, this recipient volunteered as a youth baseball coach, growing attached to kids with fewer opportunities along the way. He has given freely of his time and efforts to support families as a Board member and Exchange Club Member.
After finishing his undergraduate work at Ohio State University, he went to the University of Kentucky to get a MBA and a wife. He got both. We won't hold it against him that he and his wife, Rosanne, are big University of Kentucky basketball fans in ACC territory. He is the father of Marti Clark Thomas and Tom Clark. He is the grandfather of 4 little girls, Elizabeth, Edie, Katherine, and Sarah.
Mr. Clark first moved to Winston-Salem to teach in the school of business and accountancy at WFU where he stayed for 6 years before going into public accounting. Around 1984 he joined Bill Benton at Health Equity Properties as Chief Financial Officer and served as CFO and Director of the NY Stock Exchange-listed REIT for 7 years. Along with Mr. Benton, he helped found and served as a Director and CFO of an Assisted and Independent Living Management Company for 6 years and currently serves as Director and CFO of Salem Senior Housing. He is a member of the American Institute of Certified Public Accountants and the North Carolina Association of Certified Public Accountants.