2016 Community Hero - Pansy Glanton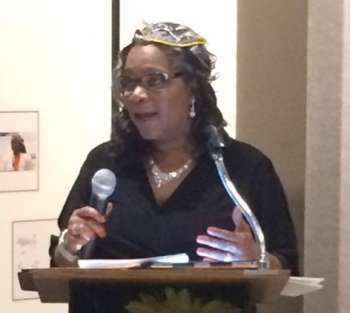 "For your dedication to the prevention of child abuse."
Exchange SCAN (Stop Child Abuse Now) is proud to announce the presentation of the Community Hero Award this past May 6th at SCI Works during their annual Spring Gala, to Ms. Pansy Glanton.
SCAN is celebrating 35 years of serving the people of Forsyth, Stokes, Davie, Alamance, Orange, Chatham, Person, Caswell, Guilford, Randolph, Surry, Yadkin, Iredell, Rowan, Rockingham, and Davidson counties and could not think of a more worthy recipient of this year's award.
Ms. Glanton works as an Assistant District Attorney in Forsyth County, and has served the citizens of Forsyth County in this capacity since 1987. For the past 24 years her focus has been the criminal prosecution of both physical and sexual child abuse. Ms. Glanton is an expert in the prosecution of child sexual abuse cases and is known statewide for being a strong advocate for children. Pansy is one of the first prosecutors to fight for children's protection in the Forsyth County school system from sexual abuse.
A native of Durham, Ms. Glanton is a member of the Delta Sigma Theta sorority, graduated with honors from North Carolina Central University followed by law school at Thurgood Marshall School of Law at Texas Southern University in Houston, Texas. She has served on numerous boards including: the Juvenile Crime Prevention Council, Exchange Club Center for the Prevention of Child Abuse of North Carolina, Partnership for Drug Free America, Big Brothers Big Sisters, and she currently serves on the Region Ill TASC Advisory Board. As a member of H.Y.P.E. Soul Line Dance Crew, a line dance group that performs throughout the community, Ms. Glanton helps promote health and fitness for all ages.
Ms. Glanton is an active member of her church, Piney Grove Baptist Church in Winston-Salem, and dedicated to her family.
ExchangeISCAN is honored to work with Ms. Pansy Glanton in the prevention of child abuse and neglect and is pleased to honor her as the Community Hero of 2016.