2020 Community Hero - The Honorable Denise S. Hartsfield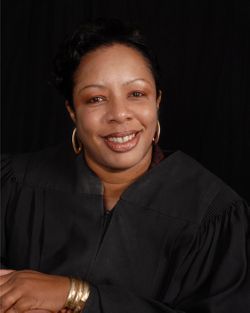 The Parenting PATH Board of Directors selected The Honorable Denise S. Hartsfield as the 2020 Community Hero of The Parenting PATH. Judge Hartsfield is no stranger to The Parenting PATH and is held in high regard by the members of our staff. A native of Winston-Salem, North Carolina, Judge Hartsfield attended the public schools and graduated from East Forsyth High School. Upon graduation, she attended Spelman College in Atlanta, Georgia, receiving a BA in English. She obtained a Juris Doctorate from the Wake Forest University School of Law, and was licensed to practice law in North Carolina. 
Judge Hartsfield was first elected to the bench in 2002, and has remained an active member of the Forsyth County District Court Bench since that time. Of the eleven district court judges, Judge Hartsfield is one of six judges in Forsyth County who is a certified Juvenile Judge. She serves as the Director of the 2020 School Justice Program. Judge Hartsfield also presides over Bond Forfeiture Court, where monetary judgments are given to the WSFC School Board for school improvements. 
Despite a demanding work schedule, Judge Hartsfield is an active member of our community. Currently she serves on the boards of Carter G. Woodson School of Challenge, H.O.P.E. (Help Our People Eat), and Winston- Salem Delta Fine Arts. A member of Delta Sigma Theta Sorority, Judge Hartsfield is also a member of the Joseph Branch Inn of Court at the Wake Forest University School of Law. Judge Hartsfield has been an adjunct faculty member for twenty years at the Wake Forest University School of Law, and currently is Director of Community Outreach at the school's Pro Bono Clinic. A well-known local legal figure, Hartsfield is Past President of the Forsyth County Bar, and serves as the judicial liaison for the Children's and Juvenile Rights Section of the North Carolina Bar Association. 
A sought after motivational and young adult speaker, Judge Hartsfield is an advocate for youth and children everywhere. At the St. Paul United Methodist Church, she leads the Children's Church for children ages 6-12. She is a Lay Speaker in the United Methodist Church, having completed basic and advanced Lay speaker certification. In 2006 she received the Winston-Salem Chronicle's Woman of the Year Award. As an ardent advocate for children, Judge Hartsfield works tirelessly to connect families with resources, like those found at The Parenting PATH. Judge Hartsfield is the only child of Mrs. Doris S. Hartsfield, and the late Mr. Delray Sylvester Hartsfield.